Jewel Mint Disposable by Pod Stick is truly a menthol masterpiece. Customers who enjoy our original Jewel Mint flavor, will be extremely fond of this convenient and sleek device for when you are on the go. The inhale is a super cool frost, while at its exit, the exhale develops into a slightly sweet mint fusion. This flavor is popular with menthol smokers and those who want to freshen up their taste buds. 

Our Jewel Mint disposable utilizes only American made ejuice that is formulated in an FDA registered and ISO-7/GMP Certified Lab. 

Want to try a bigger version with adjustable air flow then definitely check out the Jewel Mint Pod Twist 1600 Disposable!
Quick Links:
Jewel Mint
Jewel Mint Sapphire
Jewel Mint Diamond 

Nicotine Warning: This product contains nicotine. Nicotine is an addictive chemical. Keep away from children and pets. E-juice is only intended to be used with your electronic cigarettes, e-cigars, e-pipes or vaporizers. Not for sale to anyone under the age of 21.
 Ingredients: Vegetable Glycerine (VG), Propylene Glycol (PG), Nicotine, Natural, and Artificial Flavoring. 



Customer Reviews
Write a Review
Ask a Question
10/20/2020
Dorian
United States
Convenient Little Device
Very smooth on the inhale, and delivers your nicotine perfectly. Flavor is a very subtle mint that leaves your mouth and throat feeling very cool. The mint itself is very standard. It tastes like how a dentist's office smells. 4 stars because I ordered 2, which hit differently. One is super easy to activate and the other I have to hit a lot harder to get it going. Vapor quality itself is equal between them though.
08/10/2020
Marco
United States
Good flavor
Very smooth when inhaling. Leaves a sweet and minty after taste. Reason I don't give it 5 starts is because it is too smooth for me, but others might find it perfect.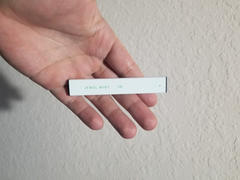 Hello Marco, Definitely check out the PODTWIST 1600 Jewel Mint. you can adjust the airflow and with a bigger battery you will definitely have a more powerful hit!
08/06/2020
chris
United States
Great taste
Love the bar tastes great would recommend to anyone!