Jewel Mango Diamond (Unsweet)
Jewel Mango Diamond is a tropical masterpiece. Our masterfully crafted Jewel Mango Diamond is the perfect formula that brings out the most natural mango flavor without an overbearing sweetness. Enjoy a notes of juicy mango nectar on inhale and a refreshing tropical mango taste that is literally blooming with flavor. 

We understand not everyone enjoys sweetness in their salt nicotine flavors, which is why Jewel Mango Diamond will also last longer in pods and coils than the average salt nic flavor. 

Jewel Mango Diamond: The taste of mango, as pure as diamonds!
Not a fan of our unsweet Jewel Mango Diamond? If you prefer something sweeter then definitely check out our top selling Jewel Mango Salt Nic
Mango Flavors for Every Taste
Our premium mango salt nic vape juice flavors are some of the most delicious blends around to help adults quit smoking. With high-quality ingredients and a dedicated tasting team, it's no wonder we're one of the best-selling brands in the country!
Customer Reviews
Write a Review
Ask a Question
10/18/2020
Madison O.
United States
Gas
Tastes just like juul mango its gas
10/02/2020
Jackie G.
United States
The best thing out
They got juul beat
09/11/2020
Damon v.
United States
Wow!
Like you, ive missed the juul mango flavor, i purchased this diamond version hoping it would taste like the mango juul pods, and i gatta say this is spot on, this is probably as close as its ganna get, i purchased just a suorin air from podjuice55 and with the juice its awsome, maybe better then mango pods, can get old though, and make u feel a lil nic sick, ah its good, just like the mango pods. (95% like the juul pod) Will be puchasing a bigger bottle next time.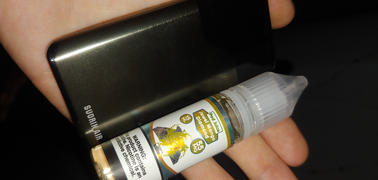 09/08/2020
Tom
United States
Right on.
This juice is phenomenal stuff. It tastes exactly like the pods we loved. My new go to juice. Glad I gave it a go. Next time I'll order the bigger bottle.
09/04/2020
Christopher F.
United States
Pod Juice less sweet Mango
Literally the cloest I have found to Juul Mango juice. Thank you for this blessing.